Ashtanga Yoga Mysore Program with Andrea in Rethymno (Crete)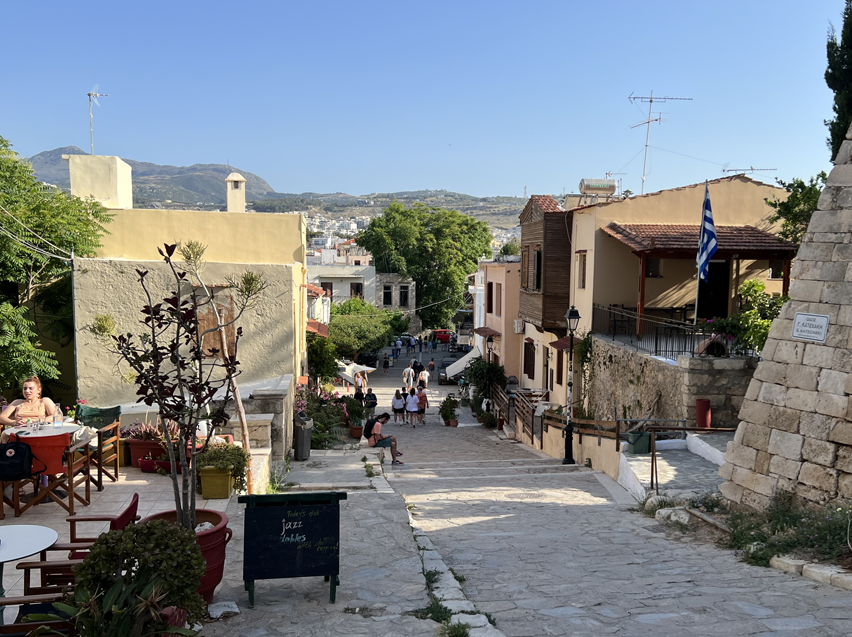 Ashtanga Yoga & Pranayama
in Rethymno (Crete)
November 5th until December 3rd 2023
Andrea will teach for one month in Rethymno (directly after the retreat in Triopetra), a pretty little town on the Northcoast of Crete.
Every day, Sunday to Friday:  7 – 10 am
Saturday no class.
You are welcome any length of time to come to practice with Andrea. The classes will be limited in numbers,  wich will enable Andrea to work with each student individually on their own practice.
For your housing and food, you are fully responsible, which enables you to choose the standard and the location to your own needs and budget. There are different hotels, also apartments and houses available to rent. It is beautiful to stay in the old town, and we are happy to be helpful to find your perfect place to stay …
We can give you recommendations for hotels and rooms, appartments and houses. Or you can also take a look for apartments and houses on Airbnb or booking.com. (for november they normally drop the prices, just ask). For long term rentals (min. 1 month) see can see also: www.spitogatos.gr

Rethymno is a lovely and picturesque small city on the north coast of Crete, with a beautiful old town, a fortezza, nice tavernas, coffee places and nice beaches around and in town…
The city is alive even in winter when most tourists are gone.
November is a great time to visit Rethymno. Why?
Most of the time the weather is still sunny and warm, even some rainy days are possible.
The water of the sea is still warm and very pleasant to swim.
It is after season, the prices for rooms, apartments and cars are much lower.
(You can ask for low season discounts)
Rethymno is not flooded with tourists, so you can see and feel the beautiful old town.
It is not too hot.
Its just perfect for your Yogapractice.
The internet is great here, and perhaps even to work from here during your stay, could be a great possibility.
The Yoga Room is below the Fortezza in the center of the old town.
@Geppetto Cooperative, Katechaki Chimaras, Rethymno, Crete
The schedule
Monday to Friday
7 – 7:50 am Pranayama
8 – 10 am Mysore
Sunday
8am Led Primary
All levels are welcome for practice. Andrea is teaching Primary, Intermediate and old Advanced A.
Every Monday morning there will be an introduction to the Pranayama Practice, wich can be only attended on a weekly base.
Extras:  for everybody who likes to join, no obligation. (the costs for the brunch and the tours are not included)
Once a week we will have a brunch together with discussion and lectures…
Once a week we will go to excursion tours together…
Things to do in and around Rethymno:
Visiting Archaeological sights like Knossos and Arcadi Monastery…
Visiting Kournas Lake the only sweet water lake in Crete, wich is a natur resarvate…
Hiking the mountains…
Visiting secluded beaches to swim and sunbathe…
Going for long beach walks
And just enjoying beautiful Rethymno with its amazing food and relaxed lifestyle…
To fly in you have to go through Athens, from there you can fly (Aegean Airlines)
or also take a ferry to Crete…
If you need any help to find accommodation, a car or transportation, please let us know…

Costs:
Yoga
One week: 150€
two weeks: 280€
three weeks: 360€
four weeks: 450€
Pranayama + 50€ /week
Cards:
10 times : 250€ / 150€*
* Reduced prices: For everyone who lives on Crete
If you like to come please write to Andrea directly: andrea@ashtangastudio.de