Yoga Weekend at lake Stechlin (Brandenburg)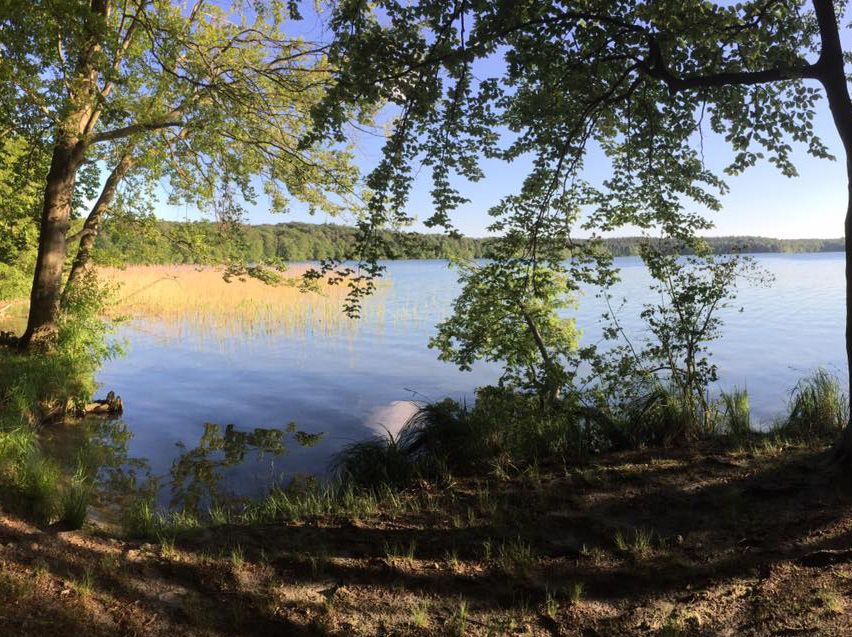 Yoga Weekend
Lake Stechlin / Brandenburg
with Andrea Lutz + Assistant teacher (n.n)
August  7th – 9th, 2020
We invite you for a relaxing and inspiring Yoga weekend at the beautiful lake Stechlin close to Berlin. The Yoga house is beautifully situated at the edge of a forest, just 100m away from the lake. The lake Stechlin is famous for clear, deep water and its lovely surroundings. It invites you to swim, relax and sunbath between the Yogaunits.

The house is newly built and has a huge fully equipped Yogaspace (100m2) with light wooden floors. There are 4 lovely Holiday Apartments, with 2 – 3 bedrooms, 1 – 2 bathrooms, small kitchen and living space. Each Apartment has a Balcony or direct access to the big garden. In total there are 4 small single rooms and 5 double rooms available.
The food will be prepared freshly for us with mostly local products, vegetarian and delicious (vegan is also possible). Please let us know when you sign in, also if you have any special requirements concerning food.

Day of arrival:
Friday, August 7th, after 3 pm
Day of departure:
Sunday, August 9th 1pm
Schedule for the weekend:
Friday:
4 pm: Welcome and getting settled into the rooms
5 – 6:30 pm: Ashtanga Yoga (easy led class) & Introduction to Pranayama
7 pm: Dinner
Saturday:
6:45 am: Swim in the lake (for the ones who like)
7:30 – 8 am: Zazen
8:00 – 8:30 am: Pranayama
Tea break
9 – 10:30 am: Ashtanga Yoga: Mysore or led class
11 am: Brunch
time for a nap, swim, walk or just relax at the lake
3 pm: small Snack with tea/coffee
4 – 6:30 pm Workshop: Techniques of Ashtanga Yoga with focus on Backbending, Balance and upside down Positions. Guided deep relaxation, followed by a talk and Q&A.
7 pm Dinner
Sunday:
6:45 am: Swim in the lake (for the ones who like)
7:30 – 8 am: Zazen
8 – 8:30 am: Pranayama
Teabreak
9 – 10:30 am Ashtanga Yoga: Mysore or led class
11 am: Brunch
1 pm: Departure
The schedule given above might change a bit.

Costs per person:

For accommodation with full board (2 nights) and the Yoga teaching:
345€ in a shared double room
395€ in a single room (if still available)
Directions from Berlin:
With the car: ca. 1,5h
With the train: RE5 until Fürstenberg/Havel (ca 1h from Hbf Berlin). From there you can take your bike, a bus or a taxi for the ride to the Yoga house (ca 10km).
More information about the house:

or Facebook https://www.facebook.com/yogahausamstechlinsee/?epa=SEARCH_BOX
Registration
Because of the uncertainty regarding the restrictions due to the Corona Virus, and since nobody can make precise predictions for August, we will accept the registrations with reservation. This means that in the event that it cannot take place (due to excessive restrictions), we will refund your payment 100%.
Please be aware that we cannot be held responsible for any additional costs you may have. The binding registration is valid with the transfer of the costs. Since we have a very limited number of participants, you can only withdraw (until July 1st at the latest) if your space is taken by another person who has not yet registered with us.
Participation is at your own risk and responsibility.
Please send an eMail if you would like to participate and tell us if you would like to share a room.